Skyscraper Palm Key Riser
SPKR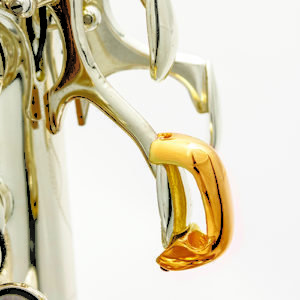 The Skyscraper Palm Key Riser brings the palm keys 14mm (.55 in) closer to the hand, extending twice as much as the original palm key riser. The new ergonomic reach increases speed and ease of playing. Many people find the ideal combination is two skyscraper palm key risers on the high D and F keys, and one original palm key riser for the high Eb key.
Model #109
Model # 208
Model #117
The most common type of skyscraper. Works for all alto/tenor/bari saxes with contemporary palm keys. Also works for Yamaha sopranos.


For soprano saxes with regular, contemporary palm keys.
(For Yamaha sopranos use Model #109)
For Sopranos, Alto, Tenor, Bari with vintage/irregular palm keys. (For Selmer MKVI saxes use Model #109)
Sold as single piece.
Enhancer Finish
Gold Finish (no additional cost) (0) Silver Finish (30) Antique Finish (30) Custom Finish (30)
Skyscraper Type
Model #109 (0) Model # 208 (0) Model #117 (0)